It's finally here!
using 360Rize 360Penguin, 6K, 4K, 360Video and 24 mega-pixel 360 photos with easy Live Streaming to Facebook and YouTube
360Penguin Designed For All Ages With Stunning 6K Video and 24 Mega-Pixel Photos
Released on Oct 13,2018 – National Penguin Day!

In Stock and Now Shipping!
360 Family User Friendly!
Yep!, its a cute camera packed with amazing high tech 360 components that everyone of any age can create stunning, high-quality 6K 360 video, 24M 360 photos, easily edit, live stream to Facebook and YouTube, and share everything that's "All Around You™!"
The 360Rize technology developed inside the Penguin handles all the 360-video work flow to produce stunning 6K 360 video, 24-megapixel photos.
Live stream 360 videos to Facebook or YouTube for an hour on a full charge. If an hour isn't long enough, you can have unlimited power through the USB-C port allows for endless recording.
Control the action on your phone through a Wi-Fi connection. Using either an iOS or Android device, our app will give you control over camera operation. See what the camera sees. Look around, zoom in and out, even shoot time-lapse images at 24 megapixels. The 360Penguin has such high resolution that a simple 360 photo can be framed into the perfect traditional image. You'll never miss the action or cut someone out of the shot again.
Quick Access to our users guide: 360Rize 360Penguin Specifications Document 20180904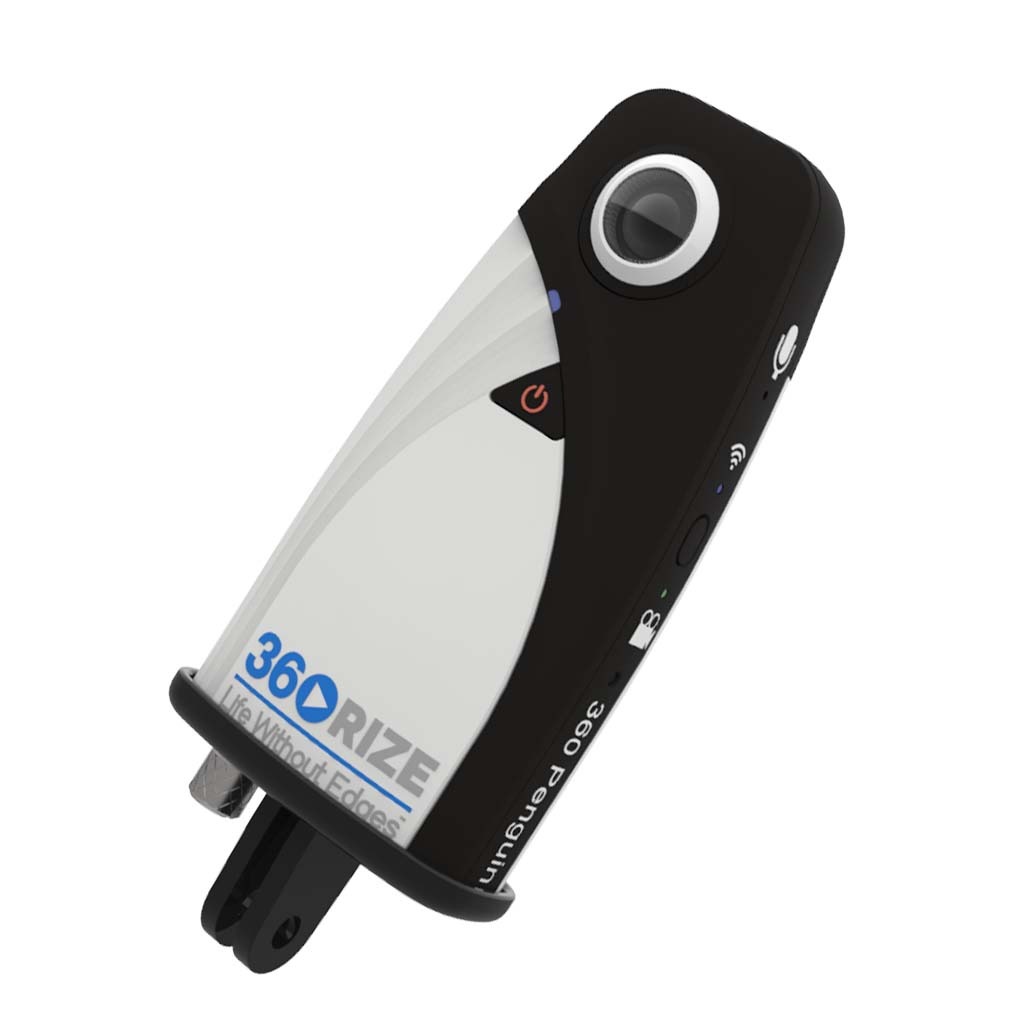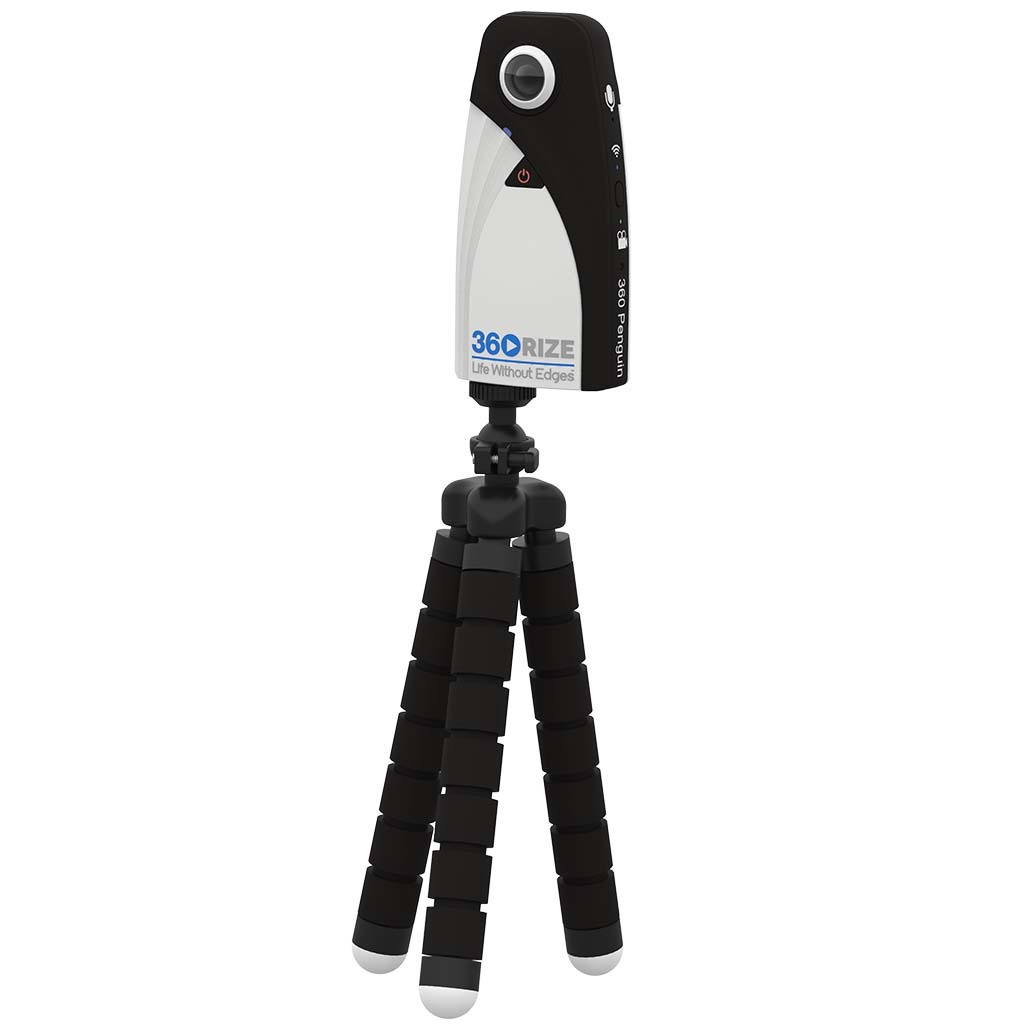 Why Our Consumer 360 Video Gear
With over 20 years experience, we have figured out how to make 360 easy for all ages. We worked with all age groups and valued their input.
We understand changing technology is expensive however, it doesn't have to be if you build your products taking the future into consideration,
Ease of use is the key to opening up the 360 market to everyone.  Years of experience tells us how we can help everyone to get involved.
For the 360 Professionals you can now do 8K 360 Video at 240fps
Why Our Professional 360 Video Gear
Injected Molded
Alumimum Cores
New injection mold design keeps the 360 video gear light weight and easy to use with high quality manufacturing.  No MORE 3D printed products!
Modular Plug
and Play Designs
Easily upgrade your 360 video gear as the technology and cameras change.  These patented 360 videos rigs allows clients to adapt as technology advances.
Built for HD
360 Production
From 6 to 24 cameras to fit all HD VR projects.  Output 360 video at resolutions as high as 12,000 by 6,000 pixels with frame rates as high as 240 fps.
Our Patented 360 Video Gear
Guinness World Record Holder
The first fully spherical HD 360 video filmed on the summit of Mount Everest

It was an amazing surprise and accomplishment.  The temperature was -51 without the wind chill, the patented 3D printed 360Rize formerly 360Heros 360 video gear made the journey and captured the first HD fully spherical 360 video at 29,029 feet (8,848 meters) above sea level, the highest mountain on Earth.
Michael Kintner with Apa Sherpa, the world record holder who summit-ed Mount Everest 21 times.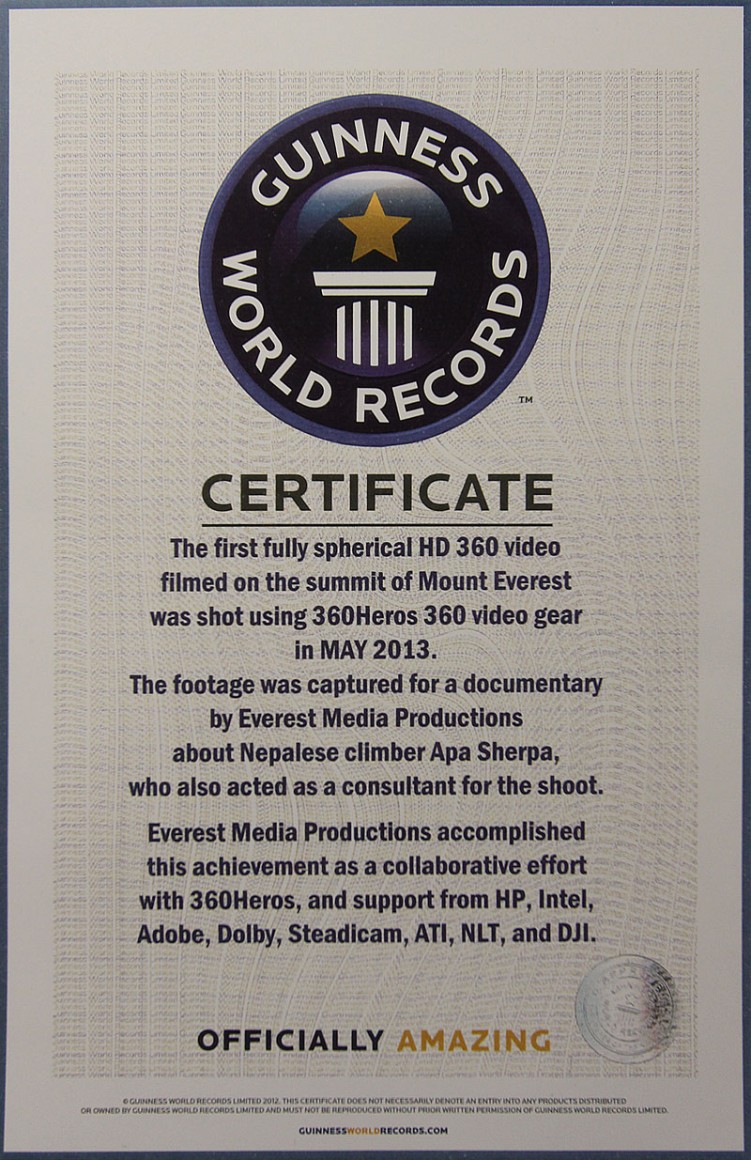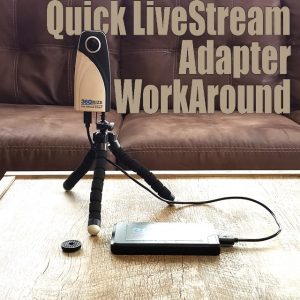 You find yourself out shooting with your 360Penguin. It's all going well when you decide you want to show your friends what's going on. As you get your battery pack out to connect you realize your livestream adapter is sitting
Read More »